by GraveDigger on Aug.27, 2008, under NFL Draft
With the college football season only a few days away and the 2009 NFL Draft only about 240 days away, the hardcore draftniks will be watching the highly touted players closely and begin making their prospect profiles. Here's a look at some of the top Seniors at each position in the country and how each position looks heading into the '08/'09 season.
Quarterback: Curtis Painter – Purdue (pictured), Cullen Harper – Clemson, Todd Boeckman – Ohio State, Chase Daniel – Missouri, Graham Harrell – Texas Tech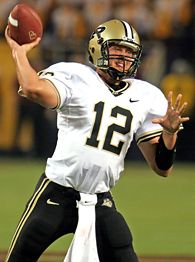 I look at this group as unspectacular but solid. Certainly Harrell is going to put up the big stats in the Chuck 'n Duck (thank you Buddy Ryan) offense that Mike Leach runs but ultimately he doesn't have the skill set for the NFL like every other QB that has come from that offense. I can't imagine he'll get drafted. Daniel is a gutty, tough QB who can get it done on Saturdays but he really doesn't have the size or skills to be a pro signal caller. I would expect him to be draft in the mid/late rounds as a backup to an established QB. Boeckman, Painter, and Harper all have the skills to succeed in the NFL with Painter definitely being the most talented. Good, productive seasons from all 3 should solidify them as Day 1 picks and a big season from Painter could boost him into round 1.
Sleeper Senior: Stephen McGee – Texas A&M
Junior to watch: Matthew Stafford – Georgia
Click the link below to view breakdowns on the rest of the offensive positions.
RB:
James Davis – Clemson


Javon Ringer – Michigan St.
Arian Foster – Tennessee
Brad Lester – Auburn
Ian Johnson – Boise St.
Not in any way comparable to the '07 RB class. This class will be aided a lot by juniors like Beanie Wells and C.J. Spiller who are 1st round talents. Davis and Foster are big productive backs that will be able to get the job done on Sundays but have injury question marks. If both stay healthy and produce, I could see both being picked in round 1 but early round 2 is more likely. Ringer will have to show more quickness and elusiveness if he wants a shot at Day 1 but round 2 is definitely within the realm of possibility. Both Lester and Johnson must prove they can hold up physically and stay productive after disappointing Junior seasons. With great seasons both could climb to round 2 but round 3 or 4 is more likely in my opinion.
Sleeper Senior: Marlon Lucky – Nebraska
Junior to watch: Chris "Beanie" Wells – Ohio St.
FB:
Brannan Southerland – Georgia


Jorvorskie Lane – Texas A&M
Conredge Collins – Pittsburgh
Eric Kettani – Navy
Tony Fiammetta – Syracuse
Southerland heads this class of talented FBs as the most talented but currently the most injured. His all around skills remind me a lot of Mike Alstott but he'll miss about half the season with a foot injury. Lane is not a traditional FB; he has the size of a FB with the skills of a HB. He looks like Jerome Bettis running the ball but isn't as quick or tough. Collins is a punishing lead blocker and is getting noticed more and more due to the talented young RB he's blocking for, LeSean McCoy. Southerland, Lane, and Collins could all go anywhere from round 5 to round 7. Kettani is more of a Brian Leonard type back who is a RB in the FB's body. He may not have a true position in the NFL but is a hard worker. Fiammetta is a big lead blocker like Collins but doesn't offer much as a receiver or runner. Kettani and Fiammetta will definitely go undrafted in my opinion.
Sleeper Senior: None
Junior to watch: Richard Dickson – LSU
TE:
Brandon Pettigrew – Oklahoma St.
Chase Coffman – Missouri


Travis Beckum – Wisconsin
Shawn Nelson – Southern Miss
Bear Pascoe – Fresno St.
I firmly believe this group will produce more quality NFL TE's than the '08 TE class. Pettigrew headlines this class with just about everything you look for in a TE. He's big, he blocks well, and has through the roof potential. Definitely looks like a first round talent. The son of former Packer TE Paul Coffman, Chase has the potential to be a top NFL TE but injuries have bogged him down. He's an aggressive blocker who has a lot of ability as a receiver and looks like a 1st round talent if he is healthy and productive in '08. Beckum is about as talented a receiving TE as there is. He's built more like an overgrown WR but is aggressive as a blocker. He's undersized for a TE and may make a switch to WR in the NFL but still looks like a legitimate Day 1 prospect. Nelson is more of a receiving TE in the mold of Kellen Winslow and looks like an early Day 2 player. Pascoe is an old school TE who is a fierce run blocker and a tough runner with the ball. He also could go early Day 2.
Sleeper Senior: Anthony Hill – North Carolina St.
Junior to watch: Jermaine Gresham – Oklahoma
WR:
Brian Robiskie – Ohio St.
Louis Murphy – Florida
Derrick Williams – Penn St.


Brandon Gibson – Washington St.
Demetrius Byrd – LSU
Once again we may not see a WR selected in the 1st round. Juniors like Percy Harvin and Darius Heyward-Bey might creep into the 1st if they come out but there are no distinguished seniors. Robiskie is one of those WRs that do everything good but nothing great. He should be a good #3 NFL WR but is not a 1st round talent. Murphy is the perfect combination of size and speed but he doesn't play up to his potential and hasn't produced…that and he has the Florida WR curse going against him. He'll put up crazy measurements at the combine but even that won't get him higher than the late 2nd in my opinion. Williams could be the most talented of the class. He has great ability but has been hindered by lackluster QB play and weak offensive lines. If Williams has a strong year and strong workouts he may creep up into the late 1st but if that doesn't happen, he will probably go in the mid/late 2nd. I would classify Byrd and Gibson as good/not great. Byrd is an effective deep threat but that's it and Gibson does lots of things good but nothing great. Both could go anywhere from early 2nd to the late 3rd based on production and measurements.
Sleeper Senior: Juaquin Iglesias – Oklahoma
Junior to watch: Darius Heyward-Bey – Maryland
OT:
Michael Oher – Ole Miss


Eugene Monroe – Virginia
Jamon Meredith – South Carolina
Xavier Fulton – Illinois
Alex Boone – Ohio St.
While this class isn't as top heavy in talent, it's certainly deeper than the '08 class. Oher is a lock for the top 10 as he is as talented as they come. Big, athletic, and could probably play any position on the line except Center in the NFL. Monroe was the reason '08 1st rounder Branden Albert was at Guard instead of LT (which he is in the NFL). Looks like a prototypical NFL LT and should go in the first half of round 1 if not the Top 10. Meredith is a raw, athletic tackle who could play RT or LT in the NFL. Injuries are a concern but if he stays healthy he looks like a Late 1st/early 2nd quality player. Fulton is an extremely raw yet extremely athletic prospect who could probably play LT in the NFL. The question that everyone will ask is whether his supporting cast has made him look better than he is. With a strong year he looks like a solid 2nd rounder. Boone is an old school, mauler LT who will need to move to RT in the NFL. LSU and Florida made him look foolish but he's durable and has been a key piece of the success of Ohio St. over the last 3 years. He could also creep up into the 2nd in my opinion.
Sleeper Senior: Jason Bell – Baylor
Junior to watch: Andre Smith – Alabama
OG:
Duke Robinson – Oklahoma


Herman Johnson – LSU


Anthony Parker – Tennessee
Mitch Petrus – Arkansas
Kraig Urbik – Wisconsin
It's a strong year for the Guards. Robinson and Johnson are the top Guards in the country and are probably the largest guards in the country. Robinson is coming in at about 6'5" and 335 while Johnson is about 6'7" and a hefty 360. Don't underestimate either though, they have surprising quickness and athleticism in addition to brute strength. Both will be 1st round selections and top interior players in the NFL. Parker has been a key cog in one of the best offensive lines in the nation the last two seasons. He's a tad undersized but he does all the little things a guard should do. If the UT offense produces and he stays healthy, I'd look for Parker to be taken in the 2nd. Petrus was a solid player on a very good Arkansas line that ranked 5th nationally in sacks allowed and had one of the most potent rushing attacks in NCAA history. His best fit may be for a zone blocking team and he could go anywhere from the late 2nd to the early 4th. Urbik is a mountain of a man and is a traditional smart, tough Wisconsin lineman. He has little things to work on but with a strong offensive performance by the Badgers this season, Urbik could anywhere from the early 3rd to the late 4th.
Sleeper Senior: Trevor Canfield – Cincinnati
Junior to watch: Sergio Render – Virginia Tech
C:
Jonathan Luigs – Arkansas


Alex Mack – Cal
Antoine Caldwell – Alabama
Max Unger – Oregon
Brett Helms – LSU
This is a very solid year for the Center position. Luigs was the '07 Rimington Trophy recipient, which is given to the country's top Center. He does everything great and should be one of the first interior linemen selected, probably in the late 1st area. Mack is a big tough Center with great athleticism who simply gets the job done. I expect him to play on Sundays and should be taken in the early/mid 2nd. Caldwell has been a key cog in a pretty good 'Bama offensive line the last 2 seasons and should find a home in the NFL as a Center or Guard. I would expect him to go anywhere from the early 3rd to the early 4th depending on how Alabama's offense performs. Unger was a standout LT before shifting to C and becoming one of the top players there. He's big, aggressive, and athletic so he shouldn't have a problem finding a home in the NFL and should be drafted early Day 2. Helms is a scrappy, undersized Center who has been very durable and is about as aggressive as they come. His size might hold him back in the NFL and he may not get drafted until the late rounds.
Sleeper Senior: Eric Wood – Louisville
Junior to watch: Josh McNeil – Tennessee
:NCAA, NFL Draft