Tag: NCAA
by GraveDigger on Aug.27, 2008, under NFL Draft
With the college football season only a few days away and the 2009 NFL Draft only about 240 days away, the hardcore draftniks will be watching the highly touted players closely and begin making their prospect profiles. Here's a look at some of the top Seniors at each position in the country and how each position looks heading into the '08/'09 season.
Quarterback: Curtis Painter – Purdue (pictured), Cullen Harper – Clemson, Todd Boeckman – Ohio State, Chase Daniel – Missouri, Graham Harrell – Texas Tech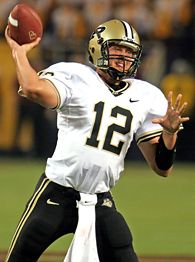 I look at this group as unspectacular but solid. Certainly Harrell is going to put up the big stats in the Chuck 'n Duck (thank you Buddy Ryan) offense that Mike Leach runs but ultimately he doesn't have the skill set for the NFL like every other QB that has come from that offense. I can't imagine he'll get drafted. Daniel is a gutty, tough QB who can get it done on Saturdays but he really doesn't have the size or skills to be a pro signal caller. I would expect him to be draft in the mid/late rounds as a backup to an established QB. Boeckman, Painter, and Harper all have the skills to succeed in the NFL with Painter definitely being the most talented. Good, productive seasons from all 3 should solidify them as Day 1 picks and a big season from Painter could boost him into round 1.
Sleeper Senior: Stephen McGee – Texas A&M
Junior to watch: Matthew Stafford – Georgia
Click the link below to view breakdowns on the rest of the offensive positions.
4 Comments
:NCAA, NFL Draft
more...